12 Things To Do This Fall In Central Illinois
Hang on for a minute...we're trying to find some more stories you might like.
When the weather starts to get colder and you get tired of walking around campus with your friends or just being stuck up in your dorm studying, these are some things you should consider doing to cure your boredom this fall.
1. September 12th – By the Bean After Hours with Cubits, Thetah, and Native Land
Enjoy some live music locally and sip on some on the best tea or coffee Lincoln has to offer!
Date/Location: 7pm – 10pm @ By the Bean – 113 S Kickapoo St, Lincoln, Illinois 62656
2. September 16th – Peoria History Tour: Haunted Peoria 
Venture into the dark side of Peoria as the Peoria Historic Society takes you to places where strange sightings and legendary deaths have been reported.
Location: Bus leaves from 222 S.W. Washington St.  Peoria, IL 61602
Dates: September on Saturdays at 1:30 pm & October on Saturdays at 11 am & 1:30 pm
Duration: Hour and a half
3. September 16 – Abraham Lincoln National Railsplitting Festival
Come and celebrate the history and legacy of Abraham Lincolns earlier years. As a young lawyer, Abraham Lincoln practiced law at the Postville Courthouse, in what is now Lincoln Illinois. Walk where Lincoln walked, and participate in the pioneer activities from Lincoln's youth. Free Admission, and lots of activities!
Date/Location: 9am @ Postville Courthouse State Historic Site | 914 5th Street, Lincoln, IL 62656
4. September 22 – Spirit of Peoria Moonlight Cruise
Enjoy Peoria's evening skyline by the light of the moon. Live entertainment is included with your ticket for this 2 hour cruise.
Location: 100 Water St, Peoria, IL 61602
Time: Ticket booth opens at 6:30pm. Boarding at 7pm and cruise 7:30-9:30pm.
Tickets: $23/person
5. September 23 – 5K for Orphans 
The purpose of 5K for Orphans is to create awareness for the plight of orphans and to raise money for the Woven Together Fund, which helps with adoption costs for families in Logan County.
Date/Location: 9am – 11am @ Kickapoo Creek Park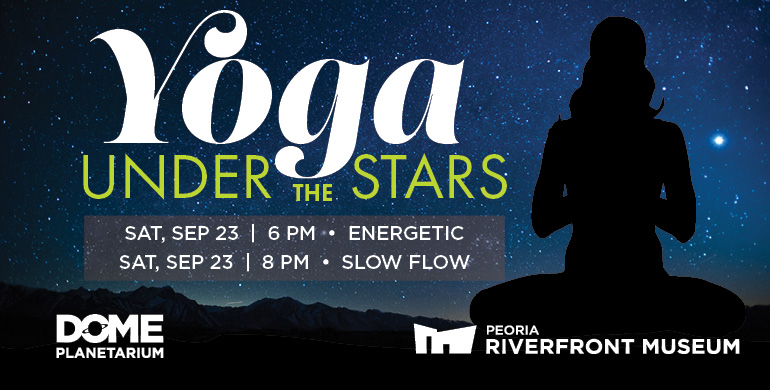 6. September 23 – Yoga Under the Stars 
Let your mind go as you connect movements in an energetically paced flow under the stars in Peoria's state-of-the-art Dome Planetarium.
Location: 222 SW Washington St, Peoria, IL 61602
Time: Active, energetic flow: 6pm | Slow, restorative flow: 8pm (Each class is an hour and a half)
7. September 30 – Nick Jonas and Skylar Grey @ Bradley University 
Date/Location: 8pm @ Renaissance Coliseum, N Maplewood Ave, Peoria, IL 61606
Public Ticket Price: $35 + fees
8. October 14 – Out of the Darkness Walk
Walk to Prevent Suicide at the 2017 Out of The Darkness Springfield Community Walk!
Date/Location: 2pm-4pm @ Southwind Park, 4965 S 2nd St, Springfield, Illinois 62703
9. October 22 – Goats and Yoga at Willow City Farm 
Come for goat yoga & nama-stay for a drink & snacks, + meet some of the animals of WCF!
Date/Location: 12pm-2pm @ Willow City Farm 4227 Irwin Bridge Road, Cantrall, IL 62625
10. October 24 – The Beach Boys @  Illinois State University
Date/Location: Braden Auditorium @ ISU, 100 N University St, Normal, Illinois 61761
11. October 27 & 28 – Rocky Horror Picture Show @ Peoria Players
A tradition among participating audiences for over 25 years, this fundraiser for Peoria Players features the movie on the big screen, along w
ith live actors onstage. Dress as your favorite character and bring your props! Doors open at 11:30 pm each night, October 27 & 28, with a midnight showing. Tickets are $20 general admission and will be on sale October 2. Call 688-4473.
Location: 4300 N University St, Peoria, Illinois 61614
12. October 28 – Laser Light Night @ Peoria Riverfront Museum 
Sit back, relax, look up and rock out! Listen to your favorite music while being dazzled by the multicolored laser light show on the Dome.
Times: Laser Fright Night – 6pm | Laser Beatles – 7pm
Location: 222 SW Washington St, Peoria, IL 61602
Price:$7 one show, $12 both shows